As long as ski gloves are warm, waterproof, and allow for full mobility, you're good to go, right? Not necessarily. Skiers know the importance of a free range of motion to grasp ski poles. However, this isn't the only important trait you should consider when buying gloves. How about ski mittens? Small pockets, or other storage features? And, what about the touch-friendly finger digits allowing you to use your smartphone while wearing the gloves?
With so many pairs of ski gloves to select, trying to pick the best one can seem overwhelming. But, if you know what features are most important to you, this product list becomes a little more manageable. Of course, you want to feel comfortable and want your fingers to feel warm in frigid temperatures. Then there are those tech-savvy skiers who want to record a new move they nailed with their smartphone. For the next person, it's having a comfortable, breathable exterior finish that keeps their hands dry. No matter which end of the spectrum you fall at, there are countless great pairs of gloves and mittens available. So, prepare for the upcoming ski season with new high-quality gear, and the perfect gloves to round everything out.
Ski Gloves or Ski Mittens
The first question skiers need to answer is: "Do I want ski gloves or mittens?" The answer will vary from one person to the next. Gloves offer greater range, dexterity, mobility, and are more comfortable for gripping ski poles. They're typically not as warm and don't have as much padding as mittens.
Ski mittens, on the other hand, are warmer, and easier to put on/take off. However, they do limit mobility, grip-ability, and aren't as efficient for fast, downhill skiing. Before investing in either variety, these are some additional things to consider when comparing gloves and mittens.
What to Look for When Buying Ski Gloves or Mittens
When buying new gloves or mittens, skiers want to choose the best product. Material finishes, lining, waterproofing, and optional features are some characteristics to search for when shopping for new gloves.
Shell material
Glove liners fall in one of two categories: synthetic or leather materials. Synthetic fabrics are nylon and have a coating similar to Gore-Tex or ePTFE to increase warmth and waterproofing. A synthetic leather blend might be present on the palms of these gloves. There are also all-leather gloves. These gloves are waterproof, durable, and feature a microporous exterior membrane.
Breathability and waterproofing
Ski gloves and mittens must be breathable and waterproof. Skiers don't want their hands to be cold and wet. Gore-Tex or Omni-Tech lining help increase the waterproofing of gloves. Gloves should also feature a breathable material. Vents or other heat escape outlets are necessary to help increase comfort levels for skiers. Great materials prevent sweating on the palms and hands while keeping hands warm and dry.
In​​​​sulation
Thinsulate, Thermolite, Primaloft, and the list goes on. There are many insulation fillers available that manufacturers use when making ski gloves. A synthetic blend that's light and breathable, such as Primaloft, helps retain warmth and increase mobility. When selecting insulation fillers, skiers have to consider how much, how full, and what level of insulation is necessary.
Optional features
Then, of course, there are optional features. Fingerprint technologies allow skiers to keep gloves on while using smartphones. Other optional features include small pockets on the back of gloves to store items or a long gauntlet cuff. Thumb wipes, a zippered pocket, leashes, and wrist cords are some additional traits to look for when selecting gloves.
Average Price of Ski Gloves or Mittens
The price of ski gloves and mittens vary significantly from manufacturer to manufacturer. Then, characteristics like leather palms, digit fingertips, or optional features, such as pockets, will further increase prices. For most products, skiers will pay $ to $$$ for higher-end, leather gloves, and mittens.
Pros and Cons of Ski Gloves and Mittens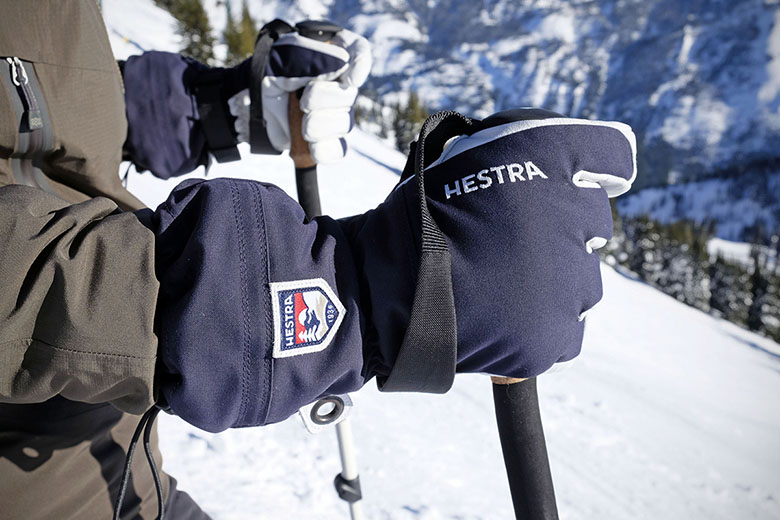 Before investing in new ski gloves or mittens, it's important to weigh the good and bad characteristics of both. Below are some of the familiar pros and cons skiers complain of (appreciate) with either product. Depending on personal style, fit, and the level of warmth skiers desire, everyone will select something different.
Ski gloves
Ski gloves are great for mobility. Wearers have a full range of motion with their fingers, and this makes it easy to grip ski poles. Additionally, gloves have optional features most mittens don't. Small pockets and interior liners are a couple of these features.
Some drawbacks do exist as it relates to choosing gloves over mittens. First, they're not as warm as mittens. Most gloves have less insulation and padding as well. Gloves might feel tighter than mittens or feel encumbering for some wearers as well. These are some pros and cons for skiers to weigh if they're considering choosing gloves, rather than ski mittens.
Ski mittens
Of course, there are benefits and drawbacks of purchasing ski gloves as well. Some of the advantages include the fact that ski mittens are warm. They feature additional insulation that ski gloves don't. Mittens also have an interior lining to help increase comfort levels. Ski mittens are easy to put on and take off.
How about the drawbacks? Some cons include limits in dexterity and mobility. Because fingers stick together in the mitten, wearers don't have as much range as they do with gloves. It's harder to grip ski poles and move freely with mittens on. And, in mild temperatures, they tend to get much warmer than ski gloves.
How We Reviewed the Best Product Listings
There are countless brands, sizes, finishes, and materials to compare when buying gloves or mittens. Skiers want to choose the best products for the ski season. In our product review, we examined the best ski gloves and mittens. We included details about fit, comfort, mobility/range, waterproofing, breathability, and optional features.
We also considered reputable brand names so that consumers can choose the best products within each category. Our review covers the ratings and price range for the best gloves and mittens as well. This information provides skiers the resources necessary to make the right decision.
Comparison Table
No products found.
The Best Ski Gloves Available
There are hundreds of products to select when buying ski gear. Because of this, skiers have to take their time to find the best products. For skiers who want a full range of mobility throughout their hands, ski gloves are superior to mittens. These are some of the best gloves available for the upcoming season.
No products found.
The leather gloves weigh about 7.1 ounces and feature a webbing loop design. This helps them dry faster when wet while keeping hands warm and dry. The cuff, sleeve, and palms have a DWM treatment on the exterior and linings. It helps prevent water or snow from penetrating the gloves.
A long gauntlet design helps to increase warmth. The cuff also helps prevent cold air from seeping in through the wrists/sleeve area. Primaloft insulation and leather exterior guarantee quality finish throughout the glove.
One reviewer indicates the gloves are decent, but not above the quality of an average-priced pair. In 18-degree weather, they suggest they felt a little chilly wearing them. The price of the gloves is $$ to $$$. The average rating is 4.2 out of 5 stars at velazzio.
No products found.
These gloves are water repellant and feature a wicking technology to keep hands warm and dry. The fabric of the insert is Ventia™, which is 90 percent nylon with 10 percent spandex to help increase mobility. The goat-leather palm is water-resistant and touchscreen compatible for smart devices.
A polyester tricot lining helps to increase warmth while increasing breathability as well. The PrimaLoft® Silver Insulation is 100 percent on the back of the hand. The gloves are lightweight, at about 5.2 ounces (the pair).
One reviewer indicates these gloves aren't as waterproof and repellant as others from Outdoor Research. They are, however, warm and comfortable for long periods of use. The price of the gloves is $ to $$. The average rating is 4.8 out of 5 stars at Outdoor Research.
No products found.
The gloves are 100 percent waterproof and have a Gore-Tex lining. The cuff design helps prevent cold air from entering through the wrist area. Tough goat leather is durable, warm, and is touch-compatible when wearing the gloves and using smart devices.
The abrasion-resistant technology features a four-way nylon stretch design. There is a PrimaLoft Gold and boiled wool 100 g fleece palm lining. Foam padding on the knuckles increases comfort and protection for skiers on the slopes.
In one review, the customer indicates they're good gloves, just not worth the price. They note that the gloves are starting to come apart at the seam. This fact is true, however, only after several years of use. The price of the gloves is $$ to $$$. The average customer rating for the gloves is 3.9 out of 5 stars at Black Diamond.
No products found.
This pair of gloves is 94 percent nylon and 6 percent spandex. This blend makes them easy to mobilize in, comfortable, and the Gore-Tex lining makes the gloves waterproof. The index finger and thumb have reinforcement. Owners can keep the gloves on while texting or using smart devices with these gloves.
A gauntlet cinch closure helps prevent cold air from seeping in through the wrists. The pre-curved construction also mimics the shape of the hand, increasing comfort for wearers. A hidden slash pocket is excellent for storing small items like keys or money in the gloves.
In one review, the customer notes the gloves are comfortable. However, they state that they aren't warm enough for very cold skiing and outdoor conditions. The price of these gloves is $ to $$. Customers rate the gloves 4.1 out of 5 stars on Amazon.
The Best Ski Mittens
For those who want ski mittens, there are several products to select. These are a few of the top contenders when narrowing down the best product list of the year.
No products found.
The primary material of the mitten is Gore-Tex with a Paclite® Technology. This finish maintains the warmth while providing waterproofing and increasing breathability. The 700 fill power makes them lightweight, and they have a DriClime® 3-Dimensional Wicking Lining.
A wrist-strap and gauntlet design help keep the mittens in place while skiing. Silicone treatment on the trigger finger helps increase grip-ability with these mittens.
One reviewer indicates that the mittens are warm and comfortable. The only issue they have with the product is the high price, and that they don't last very long. The price range of these ski mittens is $$ to $$$. They have a 4.7 out of 5-star rating at Marmot.
No products found.
The mitten has a Gore-Tex insert, and it's touchscreen compatible. So, wearers don't have to take them off to use their smart devices in cold temperatures. The gauntlet-style shell is waterproof and highly breathable. The mittens keep skiers warm, without causing hands to sweat.
A Rubbertec palm helps increase comfort and grip while holding onto ski poles. The mittens feature high-loft synthetic fill, and a nylon poly shell, with Poly with DWR treatment. There's a hidden zipper-stash pocket on the back of the mitt as well. It's great for storing keys, money, or a credit card.
The only drawback, one reviewer notes, is that they don't have a cuff design. The reviewer indicates they would like for the mitten to be a little longer. The price of the mittens is $ to $$. The average rating is 4.8 out of 5 stars at Dakine.
No products found.
The classic leather mitten is perfect for skiing, snowboarding, or general daily outdoor use. There's a side clip, allowing owners to attach them onto ski poles. It has a cuff design as well, to prevent cold air from seeping in when temperatures dip.
The mittens are waterproof and are breathable, making them comfortable for long periods of use. They also help preserve the body's warm temperatures to keep skiers warm on the slopes.
The only drawback is that the mittens are a little thicker than other products. This design can limit mobility a little while skiing. The price of the mittens is $ to $$. The gloves have a customer rating of 4.6 out of 5 stars at huo zao.
No products found.
The ski mittens have a removable polyester lining for additional warmth when necessary. They have a three-layer fabric exterior to keep hands warm and dry while increasing breathability if temperatures rise. A proofed goat leather exterior is durable, soft, and comfortable.
The exterior is water and windproof. So, wearers feel warm and their hands remain dry no matter what the weather conditions. Wrist cuffs help keep the mittens in place when skiers are moving at a fast pace. The cost of these mittens is $$ to $$$. The average rating is 4.4 out of 5 stars on Amazon.
Finding Your Pair: Best Ski Gloves or Mitten for the Upcoming Ski Season
When buying new ski gear, ski gloves or mittens are one of the many items you'll purchase. Because they're integral to warmth, mobility, and functionality while skiing, you need to pick the best pair. For skiers who prefer gloves, the best option is the Gordini glove. They're easy to move around in, warm, and have a Gore-Tex lining to keep hands warm.
If you prefer ski mittens, the Hestra Army Leather Patrol is the perfect selection. It features a proofed goat leather exterior. They're wind and waterproof and have three-layers of Hestra's Dobby fabric. A removable polyester lining and neoprene cuff help keep the mittens in place. An insulated G-loft liner helps increase breathability, regardless of the weather or ski conditions.
Last update on 2021-03-03 at 20:58 / Affiliate links / Images from Amazon Product Advertising API